4th Jan, 2012
Today;s FLash Fiction is brought to you by the Wank Wednesday promt Arc and the formerly Silver Flash but currently between names Flash prompt of 'Damn it's cold."
I hope you enjoy my little flash, I've not done it for a while so I might be a bit rusty!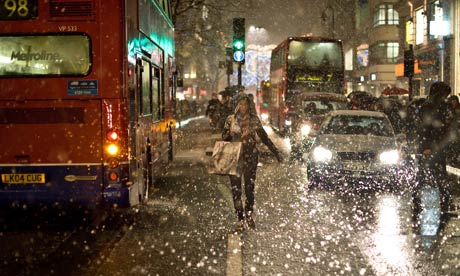 "Damn, it's cold." I muttered as I trudged through the calf deep snow. I hated winter and I hated going out in such uncouth weather. I hibernate usually, do not leave my house. I have my shopping delivered and I just hide away from the world and dive into my writing. It's one of the huge advantages to being an author.
Why then, you ask, am I out in the snow in the middle of a gloomy January. The answer is Ed. I've never met him before, not in the flesh anyway. We've spent many an hour in each other's company online, I'd known him for a long time. He usually lives in a small time in the middle of nowhere USA, that's his definition of it not mine but for some reason he decided it'd be fun to come to England in the middle of winter.
Actually, his bosses decided it for him. So Ed is trapped in a London hotel and I, winter hating harridan that I am have decided to trudge through the snow filled streets to meet him. It's very strange walking down a main road where cars are not passing, people are not walking. It's the worst snow storm on record, the whole country has ground to a halt. So Ed's stuck in, unable to make his work meetings and when he asked me if I'd like to visit him I said yes.
I need my bloody brains feeling. But it is Ed. I've spent so many hours wondering about him, what it'd be like to chat to him there in the room with me. I've seen a few photos so I know he's tall and dark haired with bright blue eyes and a sparkling smile but photos don't tell the whole story.
I certainly found that out once I walked through the arches and arcs of the very swanky hotel that housed the man of my fevered fantasies. Oh come on, you had worked that out by this point hadn't you? I was obsessed with this man. The guy who could flirt for England but would never give me more than the barest hint of anything actually sexual. He had me in the palm of his hand, or he could have if he wanted me, anyway.
I went up to the room he specified, took a deep breath and knocked on the door. A few moments later it opened. Now, I know first impressions matter but I'm not sure me wrapped up in my snow fighting gear is the best first impression I could give.
"Hey," I heard the mellow voice before I saw his face, "you look freezing come in, come in."
He was as expected, warm, welcoming, tall and definitely handsome. A scent of cinnamon pervades the room, it's him, it's masculine and deep and makes me feel light headed. Or maybe that's just the intense heat after the ice cold of the streets.
"Now I desperately want to hug you but I think it would be somewhat of a challenge at this moment. Let's get you out of those clothes."
He smiled wickedly when he registered the shock in my eyes and before I could respond he lifted my golve covered hand in his and peeled it off and he continued, coat, scarf, jumper, cardigan all thrown down on a pile on the floor before he pushed me down onto the sofa and sunk to his knees before me.
"Oh, it's okay," I stuttered, "I can do that." "No," Ed responded, "I want to." he fiddled with the knotted laces then freed the snow book from my foot. three layers of sock followed until my toes were naked. He stayed there, kneeling before me running his fingers lovingly up and down the arc of my foot. I'd never felt anything so intimate and a moment later when his lips followed the trail of his fingers I was overwhelmed with lust and want.
It was not how I imagined our first embrace but it was effective and worked just as well, if not better than an a conventional embrace.
"Ed," I gasped, "Ed, I didn't expect this." "But you wanted it, right?" Under the full light of his gaze I could not deny it and I felt the heat amplify in my cheeks, not just from the effects of the central heating thawing me out.
His hands skimmed up the outside of my jeans and he moved forward on his knees. He split my thighs around him and came to a stop when he hit the sofa.He stopped there, giving me the chance to make the next step. I tipped his head back, my finger lifting his chin until our gazes met again. I arced over to place my kiss on his lips and give him the confirmation he needed to continue his seduction.
"I've dreamed of this for so long," he whispered as he lifted my top over my head exposing my breasts. "Me too," I moaned as his lips seared lust across my chest. "I wasn't sure you'd come, with the storm and all." His American twang came through and made me smile. "A little snow wouldn't stop me meeting the man of my fantasies." I spoke before I thought. He stopped kissing and looked up. My heart thumped, I was scared I'd given too much away, shown too much too soon. "Well then, darlin' lets see if your fantasies are the same as mine."
As it turned out they were very, very similar.
For more Flashing fun check out this weeks fellow Wank Wednesday Flashers and also be sure to visit:
Mathilde Watson
AJ Jarrett
Lily Sawyer
Julie Lynn Hines
My fellow Nameless flashers for this week. :)
---